Be part of rubgy's future at UQ!

At the University of Queensland Rugby Club, we inspire diversity within our players to develop their talents and abilities to the fullest, and to make the very best contribution they can, both on the field and beyond.
To prepare our players for tomorrow's world, we must continually invest in our players and facilities to provide them the optimum playing and training environment.
On Wednesday 19 October 2022, for the very first time, we will join the University of Queensland's 'Giving Day', providing a unique opportunity for our community to come together to support the next generation of rugby players.
Fundraising has already commenced and our direct link is UQ Rugby Club Priority Fund
Every dollar donated to our club will be DOUBLED thanks to one of our generous donors who has agreed to match your contributions. So, when you donate $50, UQ Rugby Club will receive $100.
Your donation will support the following:
$50 will provide a coaching session for a junior team
$100 will provide 4 footballs for one of our teams to use all year
$500 will pay the yearly registration for one of players in financial distress
$1,000 will provide all of the playing uniforms for our wheelchair rugby team
Donations are tax deductible.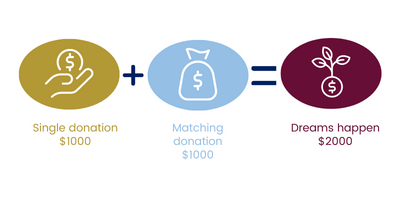 Throughout the past 112 years our Club has relied on the generosity and philanthropic spirit of our rugby community. Together, let's continue the proud University of Queensland Rugby Club tradition of one generation looking after the next and provide a legacy for the players of tomorrow.
Click here to donate